SMILE musical performance
SMILE musical performance
4 March 2019 (by admin)
On Friday we saw a performance from a String Trio (violin, viola and cello). The musicians told a story through music, movement, puppets and props, of a tiger who had lost his smile and his adventures on his quest to find it!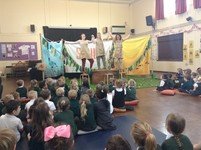 The children loved the interactive performances and all left the show smiling!
Click the link below to see photos.
Share this: