Hill View Infant Academy are constantly reviewing their curriculum as part of our continued strive for improvement.
The Curriculum at Hill View Infant Academy
Our curriculum is planned to meet the needs of our children and families and is reflective of baseline data and the life experiences our children bring with them. Most children enter our nursery broadly in line with age related expectations, and go on to leave Year 2 with high levels of attainment.
As an Early Years school our curriculum is heavily centred around play-based learning. This incorporates continuous provision both indoors and outdoors. The outdoor classrooms are progressive and encourage risk-taking and the development of key characteristics of effective learning from Nursery through to Year 2. This is reflected in our thematic planning across each year group, which ensures full curriculum coverage and flexibility to follow children's interests. We offer our children a wide range of educational visits and visitors to enhance our curriculum.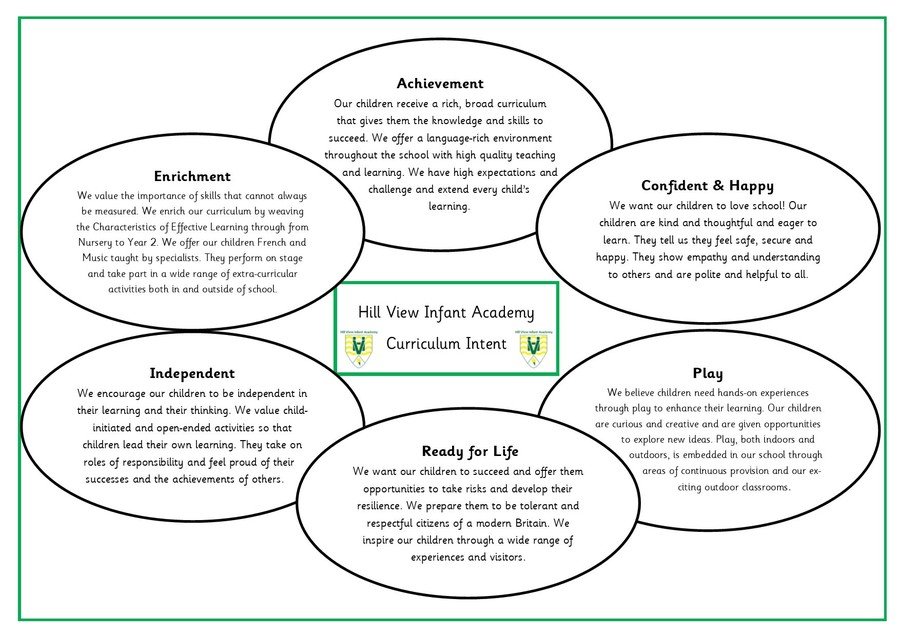 Unique Features:
We are very proud of the independence of our children, which is developed through our school council, anti-bullying crew and little leaders. Our rich curriculum enhances learning through:
Outdoor learning for every child
Open-ended, child-initiated homework
French lessons
Specialist music teaching for every year group
Full Fairtrade Status
Full International School Status – links with a range of schools
The Platinum Anti Bullying Charter Mark / Sunderland Outstanding Achievement Award for Anti-Bullying
Early Years Quality Mark
Nature school
High quality learning through play
At Hill View Infant Academy children are given support and challenge in their work and we ensure high expectations for their behaviour. Diversity, effort, achievement and care for others will all be encouraged, recognised and celebrated.
Children love to play, explore, ask questions, imagine, try out new things, and become good at new skills - consequently they are always learning! In school our task is to structure their experience so that they learn as much as possible in key areas, and take part in a broad and varied programme of learning activities, which reflects the richness and diversity of both the human and natural world. We also aim to promote British values and so our curriculum is underpinned by this, alongside spiritual, moral, social and cultural development so that we develop the whole child.
We value the importance of parents and carers involvement in the education of their children. We hope that the information on our website gives you an insight into and clear understanding of teaching and learning at Hill View Infant Academy.
School Planning and Topics
Foundation subject planning and topics
School curriculum lead: Mrs Catherine Scott
The curriculum is a framework within which learning and teaching takes place. All children at Hill View Infant School have access to a broad and balanced curriculum, regardless of gender, race, religion, age or ability. We believe learning should be fun, relevant and motivating. We firmly believe in the importance of providing meaningful learning experiences. Our curriculum is effectively delivered through creative cross curricular topics that combine a range of subjects to make learning meaningful and enable children to make links between subjects.
We check the coverage of the National Curriculum against our topics to ensure children are taught the appropriate knowledge and skills for their year group.
Our creative planning approach aims to bring the curriculum to life through hooks to engage the children and capture their attention as well as a meaningful purpose and context for learning.
To the right are the creative plans we have written at Hill View Infant Academy. Each teacher and class select a different topic each half term. This plan is adapted, added to and enhanced based on the requirements of the pupils and curriculum.
For Key Stage 1: Topics are taught at different times by different classes throughout the year. To find out the topic focus for your child's class each term please see class newsletter which are sent out at the beginning of each term.
If you would like to discuss the content of any topic that your child is being taught, please speak to the class teacher.
Core Subject Planning
To view core subject planning please click the following links: English, Maths and Science planning .
Our subject leads are:
Catherine Scott- Curriculum lead
Laura Hern – Leader of Teaching and Learning for Maths
Barbara Johnston – Leader of Teaching and Learning for English
Nicola Stockley- Leader of Teaching and Learning in Nursery
Janelle Gray – Leader of Teaching and Learning for Science
Alex Earl- Special Educational Needs Disabilities (SENDCo) Co-ordinator
Karen Atkinson - French/International Schools
Louise Ridley - PSHE/Kidsafe/RSE
Lisa Gould – Art & DT
Cheryl Knox – PE Co-ordinator/OPAL lead
Alice Smith - Computing
Glenda Herron- RE /SMSC/British Values
Kara Alderson Flood- History
Charlotte Dunn- Anti Bullying/Invention Shed lead
Stephanie Bainbridge- Geography
Kari Coull- Nature School lead/School Council
Jane Boyd- Music/Fairtrade
Foundation Subject Progression
Click the image to view our bespoke curriculum which encompasses all we value as an Outstanding Infant School.