OPAL play and learning
Outdoor Play and Learning (OPAL)
Play makes up 20% of children's time at school, therefore we believe playtimes should be a happy time which contributes to the physical and emotional health and well-being of all of our children, ultimately leading to a better approach to learning and enjoyment in school!
This is why we are participating in the OPAL project, a mentor supported school improvement programme to improve the quality of our play at Hill View Infant Academy.
We have been running OPAL in school since April 2017. Check out our blog opposite to get up to date information about OPAL in school and see how our yard has transformed.
http://www.outdoorplayandlearning.org.uk
Some children receiving an OPAL award for their hard work at lunchtimes.
February 2019
Opal in action!
May 2019
April 2019
February 2019
January 2019
Opal lead : Miss Cheryl Knox
Children...Use the poll below to vote. We'd love to know what you think of OPAL lunch times at Hill View.
Please feel free to leave a comment in our guest book below in relation to OPAL.
Here are two examples of resources we need some handy volunteers to build for us. If you think you could do this, or know someone who could, PLEASE see Miss Knox or let the school office know.
Thank you
Our OPAL project is under way. Please check this page regularly for updates and watch our school yard be transformed!
OPAL lead: Miss Knox.
For more info please click http://outdoorplayandlearning.org.uk/
16th March 2018
We have sheds! These will be used to store and preserve our equipment. Now we need to fill them! The children will have access to these to select resources over break and lunch time.
4.12.19
See our children enjoying the resources at lunchtime!
19.11.18 The Caravan
You may have noticed a caravan has appeared on our school yard. We have lots of fun and exciting areas available to the children but we would now like to provide and quiet chill out zone for the children to access. The caravan requires a little TLC but with the hard work and dedication of Miss Lavelle, it will soon be transformed into a cool, quiet chill out zone for the children to enjoy.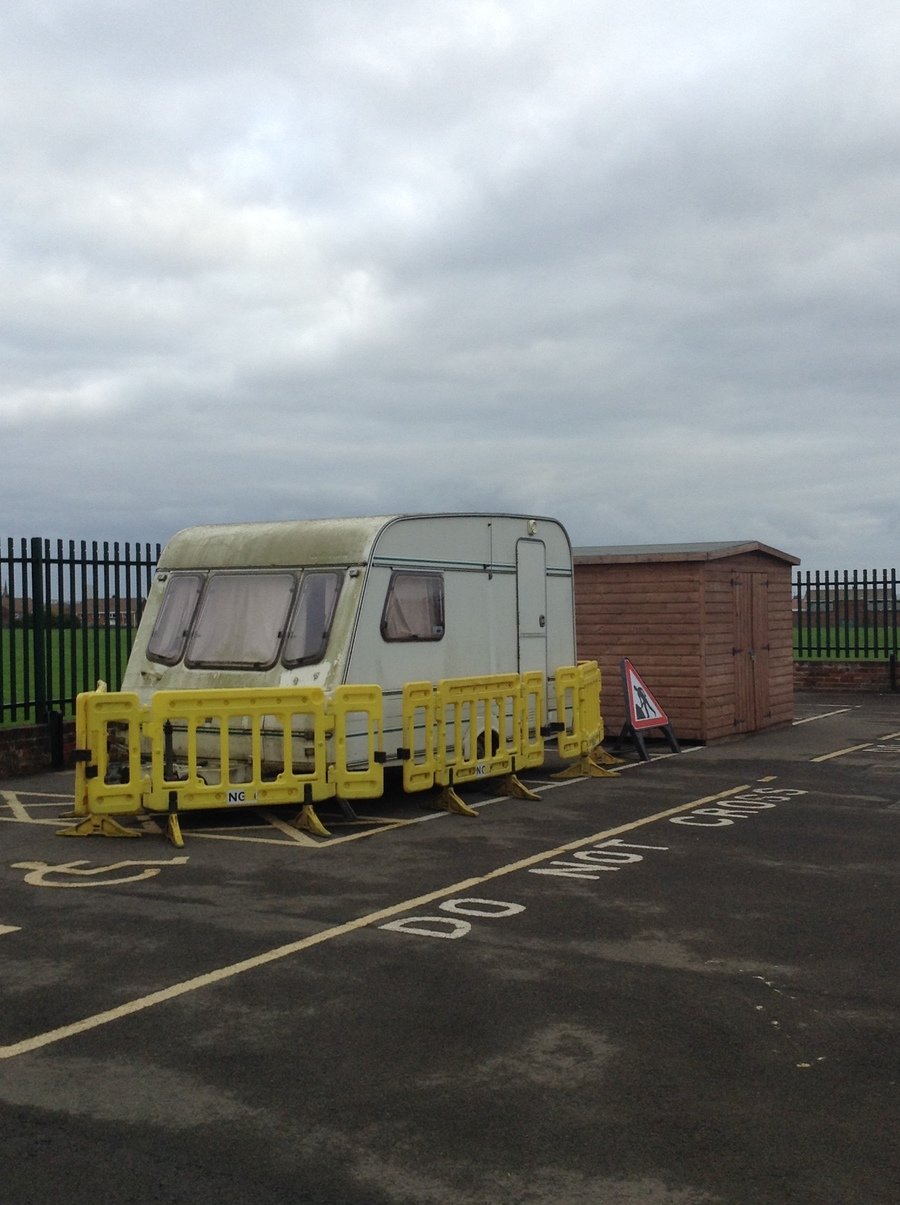 19.11.18 Fun on the field!
We have some exciting new developments being built on our school field!
We have a giant sand pit, wigwams and a VERY impressive TYRE MOUNTAIN!
Tyre mountain has taken a huge amount of tyres to construct! Thank you to Mr G Fraser for providing all of the tyres used to build it!
Once it is all finished our Year 2 Little Leaders are going to create their own risk assessment video to demonstrate safe and fun play in our new areas!
Check back later to see pictures of your children enjoying our new areas.
6.11.18 Imaginative play
The children love using their imagination to play with all of our small world toys on the yard or in Gabby's garden.
24.10.18 Parachute fun!
The children had lots of fun with our lunchtime staff playing with the parachute. They also love to play with our bouncy hoppers and giant skipping ropes.
16.10.18 Scooters
The scooters are proving a big hit on the yard! The children are enjoying using the signs to create their own roads for their friends to follow. The children also enjoy pulling their friends along on our body boards! :)
Opal is going so well. See how much fun our children are having!
THE SMILES SAY IT ALL!