Polar Express Experience
It's been very festive in school this week and no more so than in Reception.
The children and staff changed into their pyjamas and enjoyed a polar express experience today.
Children received a golden ticket and a special 'I believe' bell and watched the movie with their friends on the big screen. What a magical way to start the Christmas period!
Friendship Friday fun!
After a week of activities and discussions in school, to mark the end of NATIONAL ANTI BULLYING week, today we held Friendship Friday.
This time we chose to do something different. Within each year group children got the opportunity to sign up to an activity led by each class teacher.
Children could therefore mix with their friends from other classes. There were lots of lovely things going on, dvd screenings, arts and crafts, construction, dancing and even just a quiet room to chat with friends. What a lovely day we have had!
Bonfire Muffin tasting!
Children and staff got to taste the Bonfire Muffin made by Lennox Crosdale in the School Bake Off recently. He came runner up in the competition. Well Done Lennox!
Water Safety
Children in Reception, Year 1 and year 2 have enjoyed sessions ran by the RNLI today to learn more about how to stay safe around water. They played some fun games and learned some important facts about the how to stay safe around water.
Thanks to the lifeguards who came in a delivered the training.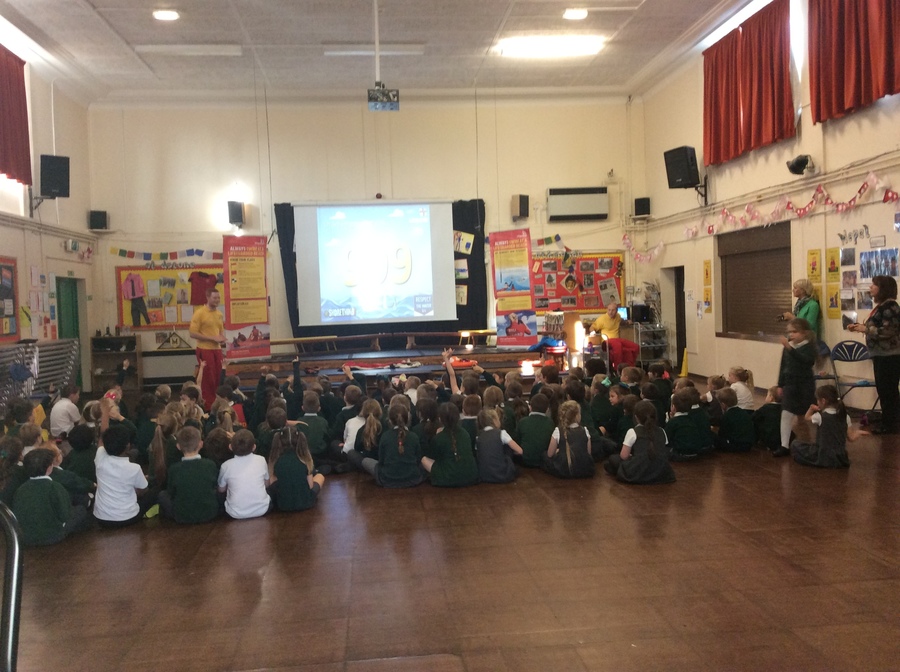 Remembrance Day
To commemorate the fallen in World Wars One and Two Mrs Herron gave an extra special assembly. Children were asked to bring in any objects and/or photos of family who had fought in each war. The response was amazing and many children and staff brought some wonderful and very precious items to show. children enjoyed learning about the items and sang some fitting songs before the two minute silence.
Judo Taster Sessions
Our children have loved being involved in taster sessions at school this week. We have used some of our PE grant this year to help fund initiatives like this in school.
The physical, technical, social and psychological skills have been taught throughout the sessions and have given children an insight into the sport. Many children are now keen to take up Judo and continue to live a healthy and active lifestyle.
For more information contact FIJ Sportif.
Year 2 Sports Day 2017
The weather has FINALLY allowed our year 2 children to take part in their sports day on our school field. The sun shone and allowed our children to take part in lots of traditional games against their friends.
They all had great fun!
Dance Festival 2017
It was once again a fabulous day for our year 2 dance crew at the Sunderland Empire on 13th June. The children had a great day performing their dance after many, many rehearsals.
We were introduced as 'the youngest group to perform' but this DID NOT hinder our brave, talented and confident children. Thank you to all staff and parents involved.
NSPCC assembly & parent meeting
The children and staff at school had a special visit from the NSPCC and GENTOO to talk to them about staying safe from harm. The children enjoyed the assembly and have learnt more about safety in school, at home and online.
Parents were invited in to discuss in more depth the importance of keeping their children safe online. We had a good turn out and were pleased that we can offer support to our parents around this important issue.
Swimming at Raich Carter
Year 2 children had the pleasure of 2 fun swim sessions at Raich Carter in Spring term. The children loved the activities on offer and some children overcome their fears and learnt to LOVE swimming! Thank you to all the Raich Carter staff.
Sports Coach at lunch times
We've been very lucky to have a qualified Sports Coach in school to deliver some fun, energetic and exciting activities over lunch time for all children. Here are some photos of the year 2 children having fun playing cricket and football.
World Book Day
Yesterday (2/3/17) was a fun filled day at school with lots of exciting activities on offer to promote reading. We love to read at Hill View Infant School! Some of our Granddads and Dads gave up their time to come into school and read with our children. This was a great experience for all and something we hope to continue. Thank you to everyone who helped make costumes and paint faces!
Year 2 Science Week
This has once again been a great success. Children enjoyed many exciting experiments... their faces say it all!
Reading with Junior children