Nursery Christmas Crafts
Nursery Christmas Crafts
6 December 2018 (by admin)
Thank you to all our families who came to spend time with their children in nursery over the past 2 days. It was a wonderful, festive experience for all. We hope you all had fun and have some wonderful handmade keepsakes to treasure!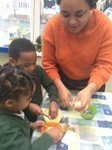 Please click the link below to be taken to our website and see photos of the event.
Please note: photos from today will be uploaded soon.
Share this: