Anti Bullying at Hill View Infant Academy
Anti Bullying at Hill View Infant Academy
26 April 2017 (by admin)
The time is almost upon us to apply for the GOLD anti-bullying charter mark. This is a really exciting time in school for the staff and children, with lots of new initiatives and activities going on.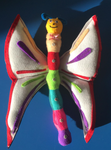 After the drawing competition held last year, we had the winning mascot designs made into physical mascots by some very clever parents and grandparents (another HUGE thank you from us!)
Annabelle and Bella are now living in school and will be visiting your child's class to watch out for kind, helpful and friendly behaviour. Make sure you ask your child if they have had the pleasure of meeting our mascots.